You may register as an Infoblast User (Residential or Business) and receive an activation PIN upon successful completion of the registration process.
Pre-requisites:
Latest TM phone bill to begin the registration process.

Your fixed-line telephone is in working condition.
Begin the Infoblast registration process.
Infoblast will display the LANDING page as a default.
If you are not currently on the LANDING page, go to http://www.infoblast.com.my
Click "Registration".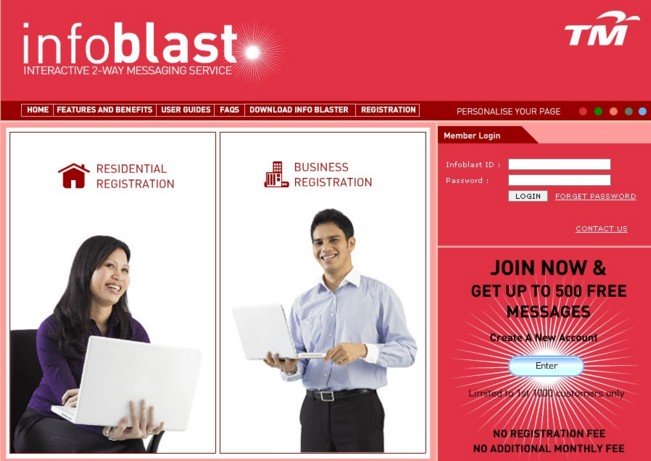 Select your Segment Category
Click "RESIDENTIAL REGISTRATION" to register as a Residential User.
Click "BUSINESS REGISTRATION" to register as a Business User.
Enter valid information into the Registration Forms.
Below are samples of the information required:
Residential Users

Business Users

Note: Field names with (*) are mandatory fields. Click the 'Submit' button to proceed. Infoblast will authenticate the information entered in the Registration Form to ensure valid information has been provided before displaying the next page. If an error is detected, Infoblast will display an error message. Please ensure that the information entered is correct and that all mandatory fields have been completed properly.
Residential Users: Click "Submit".
Business Users: Click "Next"
TERMS & CONDITIONS
The Terms & Conditions agreement appears. Fill in required information in the text fields provided. Please read carefully.
Click "I accept. Create my account" if you agree to the Terms & Conditions and would like to proceed with registration.
Click "DECLINE" if you do not agree to the Terms & Conditions and the registration process will be cancelled.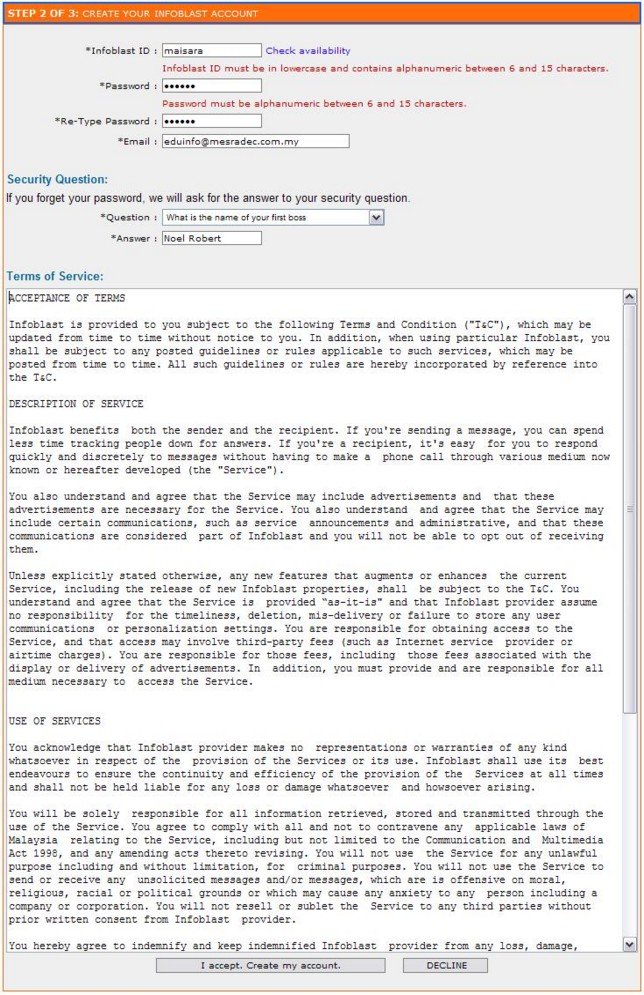 Upon accepting the Terms and Conditions, the following pop-up will appear: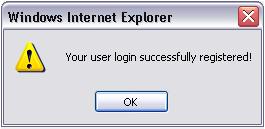 Click "OK".
Activation Instructions appear.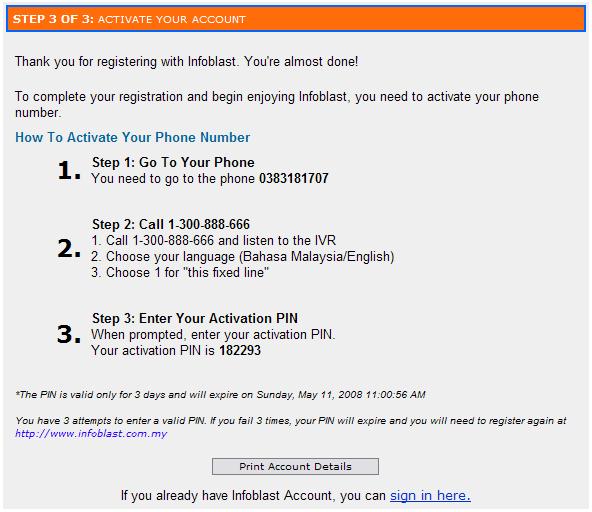 Note: You can print your account details including your Activation PIN, Infoblast ID and Password to your local printer by clicking "Print Account Details".
Activate Infoblast
Note: You are required to successfully activate the PIN within 3 days from the date of registration in order to enjoy the services. Invalid entry of the Activation PIN 3 times will cause the PIN to expire. If your Activation PIN expires, you will need to complete the registration process again.
Follow the instructions to activate your PIN:
Dial 1300-888-666 from your registered fixed-line phone.

Listen and follow the instructions after dialing.

Enter your 6-digit activation PIN.

Listen for the confirmation message to ensure successful account activation.
Once you have successfully completed Infoblast registration and activation, you will be able to use your Infoblast ID and Password to access and enjoy Infoblast.